Debris Company and guests / 3 performances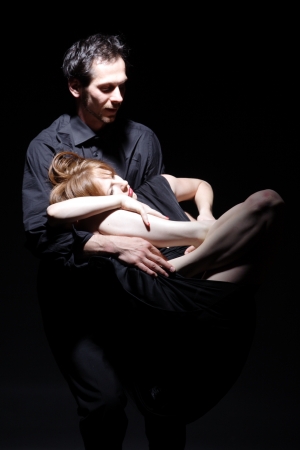 Guests – student bachelors performances 3. Year. KTT VŠMU in Bratislava, department of dance theater and performance
Undistinguished
Choreography M. Szeg, music Deep Watch, Stars Of The Lid, Commodores
Even in the darkest times of human existence, we try to find ways of escaping various frustrations or depression with the hope of a better tomorrow. In such borderline situations, the deepest aspects of our personality demonstrate themselves.
Úprimne stratený – Honestly lost
Choreography J. Vaľo, hudba V. Škutová
A young man, due to the flow of time, is at the end one era of his life.
Debris Company: Dolcissime sirene
Choreography D. Raček, S. Vlčeková, J. Vlk, music and concept J. Boleslav Kladivo + J. Vlk, starring D. Raček, S. Vlčeková, costumes M. Havran, light design J. Vlk
Based on a selection of a text from Ottavia Rinuccini Intermedi de la Palegrina, liberta, this dance and theater performance was musically composed by a lead persona of musical humanism, director, and organizer – count Giovanni De Bardi, prepared for the occasion of the wedding of Ferdinand Medici and Christina di Lorena. The performance is formally loosely inspired by the text and by searching for other dramatic intermedia of platonic idealism and life philosophy in a theatric/musical form.