Sláva Daubnerová: Solo lamentoso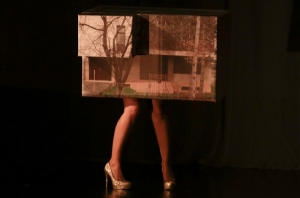 7 € / 5 € students
Author, directed by, scene and costumes, starring S. Daubnerová, Choreografia R. Ptačin, music and sound design M. Gyárfáš, light design S. Šmálik, lights J. Ptačin, sound B. Adamčík, translation M. Garajszki, Z. Gulyás, Voices voiced by S. Daubnerová, P. Vajdová, J. Gallovič
A banal tale about the growing aversion between people that evokes the feeling that extremism is born also in this way.
Solo lamentoso is based on a real story, which came up in the media some time ago. Conceptual experimenter Sláva Daubnerová connects authenticity and documentary character with fiction in order to postulate fundamental questions about the limits of humanity and the life of a human – an outsider.
The repeat performance was supported from public funds by the Slovak Arts Council.