Post Bellum & Collegium Pamäti národa: Freedom of speech, relationship to truth and our responsibility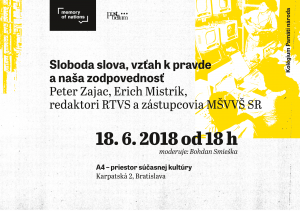 Free entry
Collegium pamäti národa Slovensko and Post Bellum Are organizing for the public and their member a discussion: Freedom of speech, relationship to truth and our responsibility.
The discussion will have a public part and a working part of the Collegium Pamäti Národa. The public part is composed of a series of inputs and a discussion with personalities from the media and education.
Guests: Peter Zajac, author, and literary scholar, RTVS redactors, PhDr. Erich Mistrík, CSc., and representatives of the Ministry of education science, research and sport. Moderated by Bohdan Smieška.
The closed part will be open only to members of Collegium Pamäti Národa. Its goal will be to reflect the discussion and eventually amend the Collegiums Call on responsibility in society and the respect of freedom of speech.
Organized by Post Bellum.