/Canceled/ Drama Queer: T. Ondrová, P. Šavel – Boys Who Like To Play With Dolls *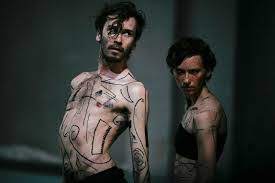 Streda / 20.00 / tanec / 8 € / 5 €
Koncept, choreografia, interpretácia: T. Ondrová, P. Šavel, svetelný dizajn J. Hajdyla, produkcia K. Hejnová, ALT@RT o.s, S podporou: Prague City Hall, ALT@RT o.s.
Tereza Ondrová a Peter Šavel pozývajú divákov do imaginatívneho sveta, ktorý búra gendrové normy. "Gender je oveľa viac ako biologický fenomén – je to sociálny fenomén." Sugestívna vizuálna performance skúma sociálne konštrukty prostredníctvom stretu dvoch významných tvorcov pražskej scény."
Ružová nie je len pre dievčatá a chlapci občas plačú.