Fuzzy Earth: Harvest in The Hanging Gardens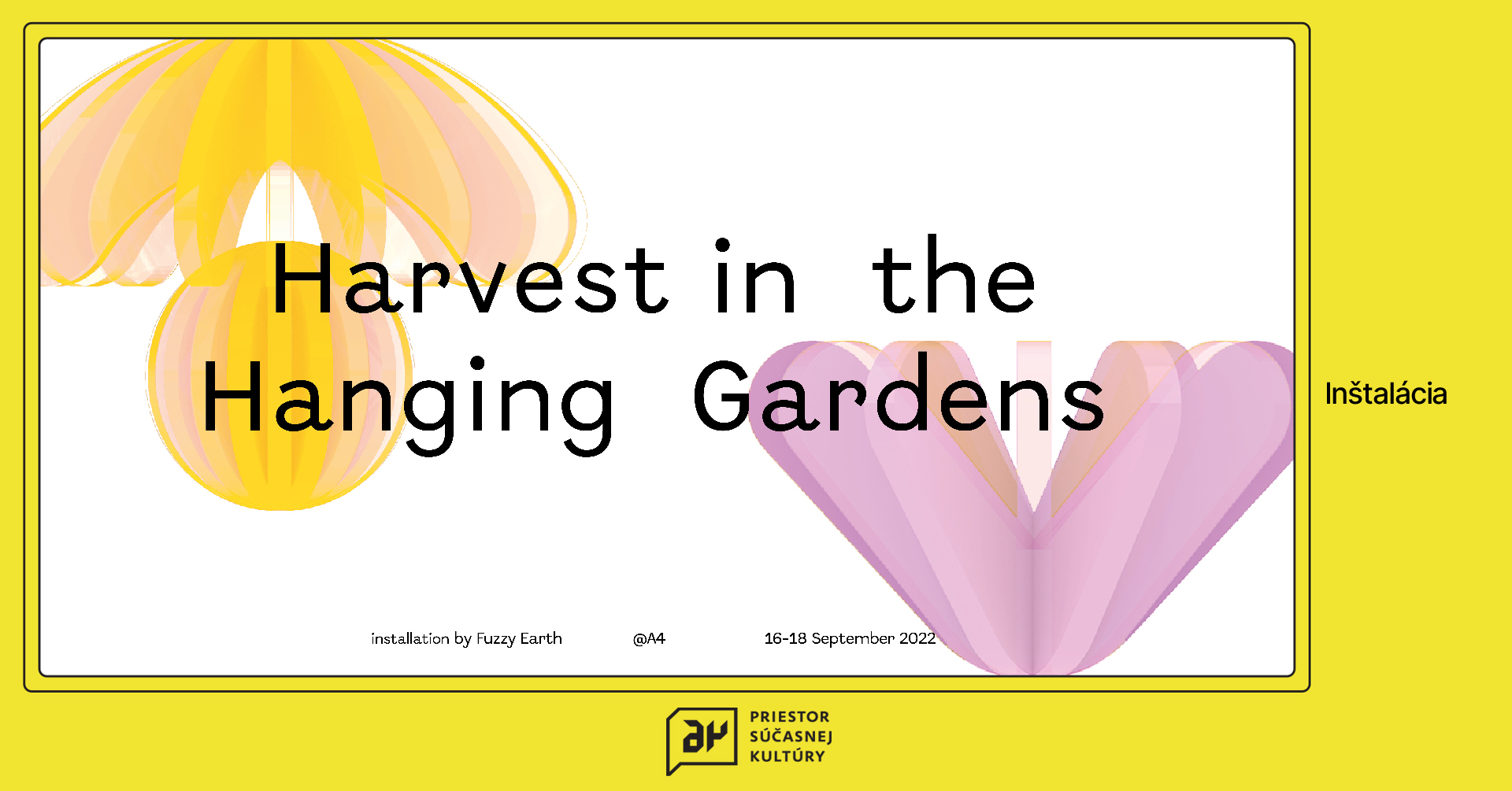 Installation will be available from 16.9. to 18.9, every day between 19:00 and 24:00. Artists will be giving a guided tour every day from 19:00 to 20:00.
Slovenský popis nižšie.
Installation by Fuzzy Earth (Tekla Gedeon and Sebastian Gschanes)
Fuzzy Earth presents a multimedia installation, 'Harvest in The Hanging Gardens' at A4 – Space for Contemporary Culture as part of the White Night festival in Bratislava.
'Harvest in The Hanging Gardens' displays a speculative greenhouse environment as a hidden contemporary wonder that is infiltrated with capitalistic tales, romantic agricultural beliefs, and sci-fi narratives. The installation uses technologically enhanced carpet, sound, and projection as a medium to tell stories about food production. In light of the global food and climate crisis, it is crucial to focus our attention on food systems since the modes of production, distribution, and consumption of food have become one of the main challenges for the coming decades. Through this project, we invite visitors to reimagine food production systems.
The installation was created as part of Fuzzy Earth's residency at A4. The project is a continuation of the ongoing research of the Fuzzy Earth duo, focusing on Capsicum annuum (bell pepper). Throughout the research, they worked in close collaboration with agricultural engineers, botanists, and farmers to explore the entangled historical, social, and architectural relationships within greenhouse cultivation practices.
Fuzzy Earth is a Budapest-based creative practice that operates on the boundaries of architecture, art, design, horticulture, and technology. It was founded by Tekla Gedeon and Sebastian Gschanes. Fuzzy Earth creates spaces, objects, and events that explore our relationship with nature and technology. Through the application of speculative methodologies, their work challenges the role of ecological environments, industrial landscapes, and botanical institutions.
Organised with the support of the International Visegrad Fund as a part of Visegrad Arts Residency Programme. Supported using public funding by the Slovak Art Council and Bratislava City Foundation.
https://fuzzy.earth