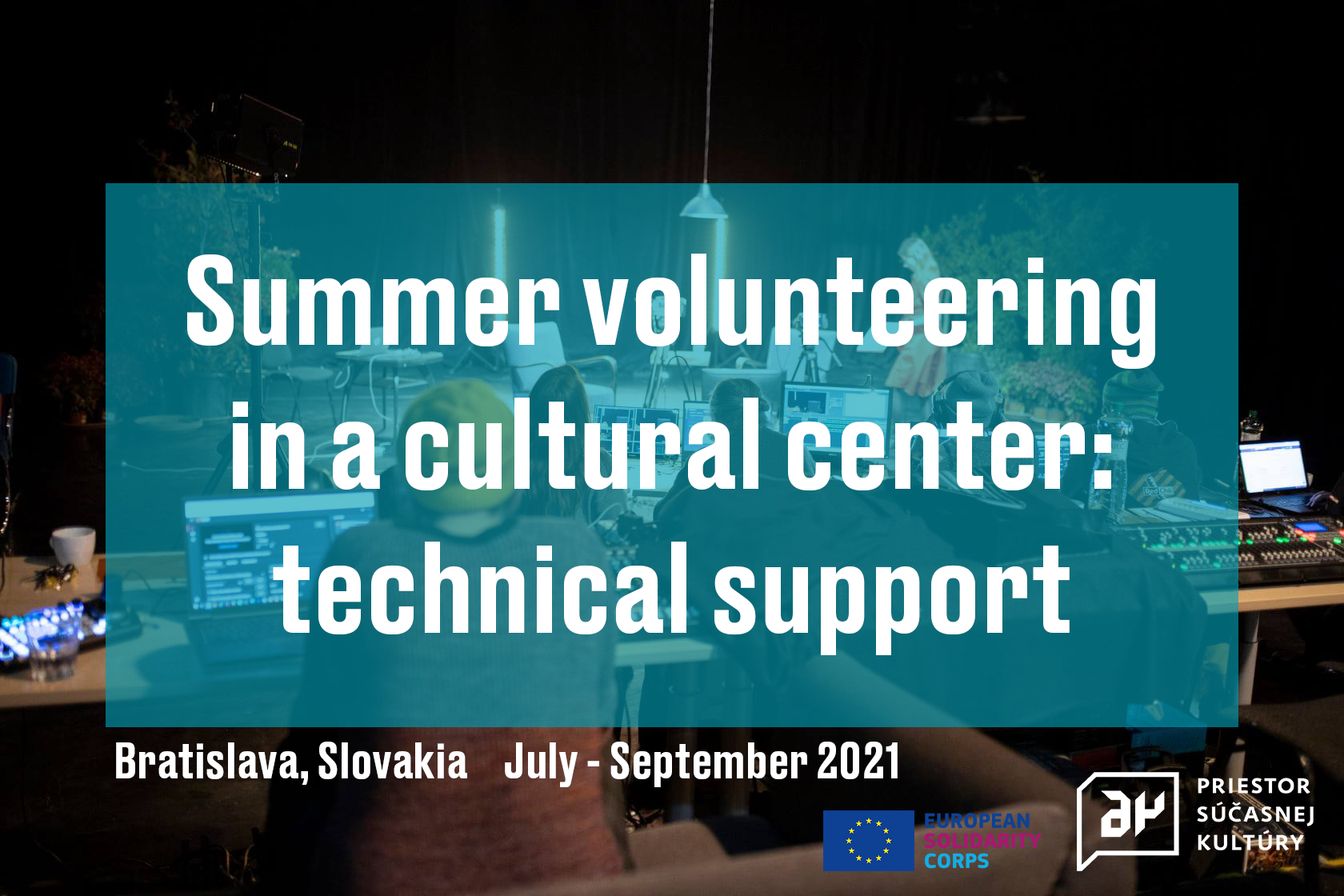 We are looking for one volunteer for an ESC-project for 2 months: June 2021 – Sept. 2021.
Deadline for applications: June 20th 2021. If we find a suitable candidate before that date, the application form will be closed earlier. 
All the costs connected to the work are completely covered by the EU, through the European Solidarity Corps programme: travel costs, accommodation, food, pocket money, etc. 
To be eligible, you have to be between 18-30 years old, when the project starts.
Profile
We are looking for someone who:
is between 18-30 years old at the start of the project.

is living in an EU country.

has a strong interest in contemporary and experimental art.

is enthusiastic, collegial, solution-oriented and stress resistant.

is good at working in a team, but can also work independently. 

is okay with working on irregular hours, including evenings, weekends and holidays.

You don't necessarily need any experience, but we do expect that you have the motivation to learn about the daily functioning of a cultural center and specifically the technical side of it. 
Tasks
The tasks are divided in two categories: general tasks as part of the volunteering team and tasks specifically as a technical assistant. The working hours will be flexible (also in evenings and weekends), and around 30 hours a week on average. 
General tasks:
Promotional and marketing tasks: Helping with A4's social media, distributing posters in the city (2 times per month), basic graphic design, maintaining the website, etc.

Helping at the cafe and terrace.

Hosting artists who are going to perform in A4.

Creating the monthly zine, together with the other 3 international volunteers.

There is a possibility to create your own (artistic) project.

Other activities depend on mutual discussion and on individual preferences, background and profile of the volunteer.
Technical assistance tasks:
Technical support in the preparation and during theater performances, concerts and other events happening in A4.

Taking care of the construction and operation of livestream equipment and setting up the rooms before events of A4.

Supporting the artists-in-residence of A4 on the technical side of their residency.

Technical support in the video and podcast production
What do we offer you
An inspiring, dynamic and international working place in the heart of Bratislava.

An environment in which there are many possibilities to learn about the functioning of a cultural center and to improve your skills.

Covering of all the costs connected to the project: travel to Bratislava and back home, travel within the city, accommodation, and any other specific costs related to the volunteering. You will receive €9 a day as pocket money and food money. This is around €270 a month.
About A4
A4 – Space for Contemporary Culture is an independent, non-commercial center for contemporary culture in the center of Bratislava. It is oriented towards creation, presentation and education in present-day forms of theatre, dance, music and film, contemporary visual culture and new media art. Since its beginning, A4 has a unique position in the cultural life of the city and has managed to create a very creative and inspiring environment around itself. A4 is a member of the Trans Europe Halles network of independent cultural centers and Antena (a network of independent cultural centres on a national level) and operates as a vital cultural node, both locally and internationally. The target group is oriented mainly towards the youth and adult audience, however there is no age limit for visitors. We have some events for families with kids (fine arts workshop for children, lectures for teenagers, screenings for families etc). We started already with lectures in the field of fine arts, public art, music, performance art. Since 2004, the productivity of A4 can be proved by more than 2500 organized cultural events, presenting and initiating innovative artistic creation. Our music programming is focused on cutting-edge expressions of contemporary music. A4 cinema club offers screenings of artistic films which are usually not shown elsewhere in the region. Every year, A4 hosts 4 European volunteers through the ESC programme. 
You can apply through this form: https://forms.gle/woqeLoouirZB7uF97 
Deadline: June 20th 2021. If we find a suitable candidate before the deadline, the application form will be closed earlier. 
More information:
E-mail: mobility@a4.sk
Website: www.a4.sk
European Solidarity Corps: https://europa.eu/youth/solidarity/placement/27131_en