NEXT 2018: 19th Advanced Music Festival Bratislava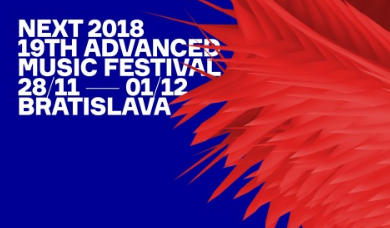 Senegal-born, Kuwait-raised composer and conceptal artist Fatima Al Qadiri will come to Bratislava with her new and thought-provoking live A/V show. The founder of the legendary Electronic Music Studios in London in 1969 and co-creator of the EMS synthesizers Peter Zinovieff joins one of the leading British instrumentalists Lucy Railton on cello in a special multichannel performance. Modular synth diva Caterina Barbieri explores the psycho-physical effects of repetition in her in her stunning minimal live sets. A spectacular synesthetic performance DATANOISE by Canadian artists Alexis Langevin-Tétrault and Pierre-Luc Lecours combines pulsating sound and light with an almost physical intensity. Hungarian musician Gosheven will present a new piece developed during his Autumn artist residency at A4 space. Further addition to the line-up will present electro-acoustic improvisation at it's best: innovative trio Shitney, sometimes described as "the female rulers of Sun Ra's Saturn colony". Late-night programme addition will feature, among others, Italian new wave ambassadors Primitive Art (Matteo Pit and Jim C Nedd) with their new EP on Arcola who will immerse the visitors into dark atmosphere of their futuristic rhythms.More artists TBA soon.
11:00-17:00, Hopkirk
Workshop of improvisation w/ Keith Rowe: Verticality and Waiting
16:00-18:00, A4
Discussion: CD / LP / Streaming?
18.00 (door) / A4
19.00 (start)
'The Pentacle' – 15.3 Surround Sound
Nina Pixel
Fedde ten Berge
Hugo Esquinca
Ji Youn Kang
DJ Bludar