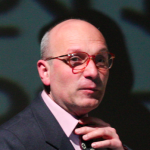 Ľubomír Burgr
Artistic Director, theatre and dance programmer. Ľubomír Burgr studied violin at the Kosice Conservatory and in 1996-1999 music composing at the Academy of Performing Arts in Bratislava. In 2000 he and his colleagues founded the Association for Contemporary Opera, which is linked with activities of the theatre SkRAT (2004), in which he acts as an author, director, actor and composer.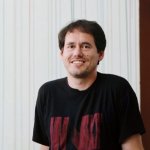 Slávo Krekvič
Artistic Director and music programmer. He obtained his PhD defree at the Institute of Musicology of the Slovak Academy of Sciences and worked at the New York University. Slávo is a co-founder, dramaturgist and coordinator of the NEXT international music festival and the KRAAA festival. He is also an editor-in-chief of the contemporary culture magazine 3/4 REVUE.

Lucia Mandincová
PR & marketing manager. Lucia studied Marketing communication and spent her Erasmus exchange in Prague where she focused on creative writing. She is also experienced in producing cultural events. She loves to paint, go to nature and have a glass of red wine. Maybe that is why she is so charmed by living in Modra where she also works as the town's photographer.

Gabika Gažová
Production Manager. She studied photography and intermedia at the Academy of Fine Arts and Design in Bratislava (whole degree) and film directing at the Academy of Performing Arts (half a degree). She had studied in Brussels, Prague and Aalto University in Helsinki and just premiered her first short film called "M" in A4! Here she also writes, translates and comes up with ideas.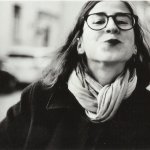 Tina Lajošová
Assistant of production. Tina is a sculptor coming from the East coast of Slovakia who had just finished her MFA at UMPRUM in Prague. Besides assisting production in A4 she is also a full time high school teacher of history of art. During holidays (which she can enjoy both as a student and as a A4 employee) you can meet her living the sweet life in a chalet in Malá Fatra. She loves water, summer, traveling, exhibitions, theatre and concerts.

Tomáš Hudák
Programmer of the KINO INAK A4. Tomáš is a professional film programmer who often works for film festivals and occasionally writes. He works for the festivals Cinematik, International Film Festival Bratislava and the Film Festival 4 Živly (4 Elements) and regularly writes for the magazine Kine ko.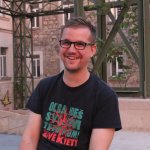 Ľudovít Nápoký
Project Manager and volunteers' coordinator. Ľudovít started in A4 as a volunteer while workig on his PhD. Eventually he abandoned his studies to allow himself to be devoted to A4 fully. As a project manager he is responsible for the European Voluntary Service, Re-imagine Europe project, Art Residences and the TEH (Transe Europe Halles).

Ján Stehlík
Office & Bar Manager. Janko is an optimist and a passionate beer taster. He is happy when the bar is full and the bottles are empty. In his spare time he goes to concerts, keeps Koi carps and recently started to grow grape-vine.

Aurélia Garová
Graphic Designer oscillating between decadent visuality and contemporary minimalism. She focuses mainly on publishing and book design. Occasionally she creates without media restrictions (text - sound - installation). She is responsible for the looks of A4 along with Tereza Maco since 2016.