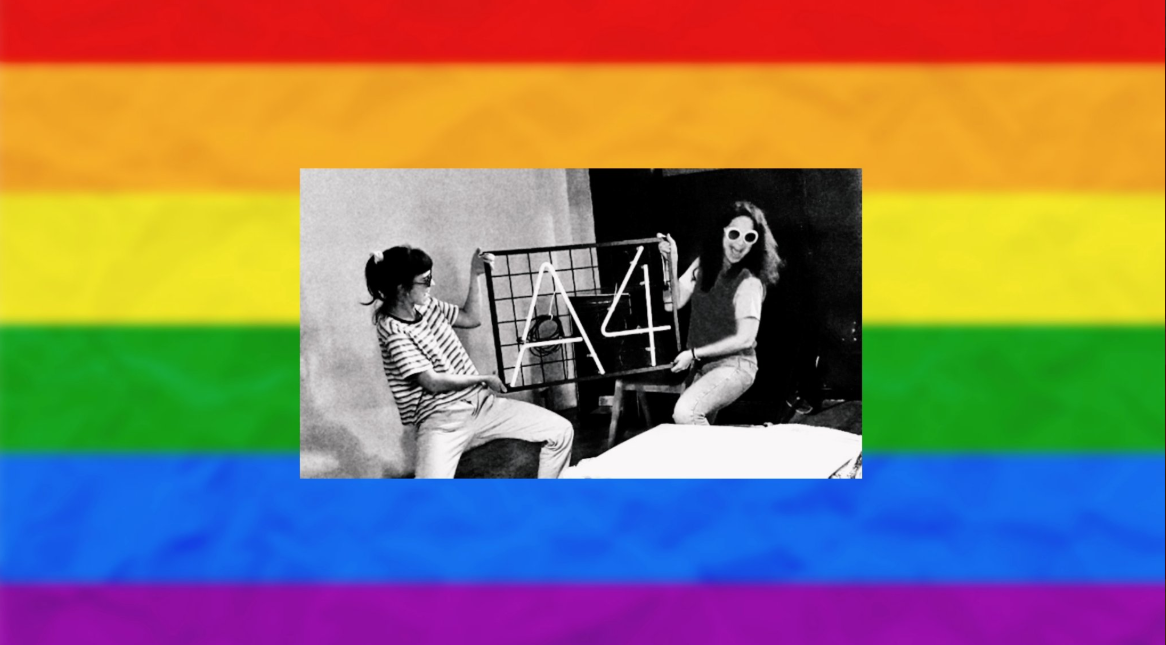 Just because Pride will be online this year, it does not mean we cannot celebrate the LGBTQ+ community in person. During July Pride month a series of movie screenings and a special vernissage in A4 will mark the importance of recognising queer identities, even in times of crisis.
Among other things, the COVID-19 pandemic has made it more difficult for activists and members of marginalised communities to militate for their rights. Some politicians have even tried to use this crisis as an opportunity to roll back on abortion accessibility or gender identity education (as was the case in Romania). And while conservative politics are gaining more and more traction all around the world, it is more crucial than ever to celebrate queer identities and free expression.
Here are the Pride Month Events, taking place in the second half of July, in A4.
OUT – movie screening // 15 July // 20.00
Straight should not be the default but, unfortunately, it reflects the reality we live in. Under these circumstances a lot of weight is put on the "coming out" process, when LGBTQ+ people are put through the pressure of having to claim their identity and defend it against a system that often works against them. 
French director Denis Parrot has captured the complexities of this event, in a 63 minute documentary, featuring a montage of online videos posted by LGBTQ+ youth, of their coming out. It is, expectedly, an emotional roller coaster, as one cannot help but empathise with the anguish, anxiety, fear and anticipation of these young people as they reinforce who they are, in front of their loved ones. 
Natural Bodies & Organic Genders (queer identities, fauna and flora) – vernissage // 16 July // 19.00
The exposition will reflect on nature, sexuality and surrealism through the works of three different artists: Julian Mesa Martin (ES), Robert Gabriš (SK/AT), Jakub Jenčo (SK). 
A4's production manager, visual artist, filmmaker, and curator of this exhibition, Gabriela Gažová, offered us some insight into the concept and importance of the event.
"I believe it is interesting to think about what the authors have in common – how each of their symbols and motives of queer and personal identities source from nature, botanics, fauna, flora. Maybe the diversity of the nature and the medium of drawing is more freeing than the language and expressions we use every day. In the Slovak language the word "NATURE" (príroda) has the word "GENDER" (rod) in its core. Everything is nature and everything that is, is natural. Yet the word "gender" is being censored and attempted to be deleted from the public debate and official language." said Gabriela.
On the current local climate around gender identity, she added: "The situation in Slovakia is sad, and slowly getting sadder – or rather frustrating. The general public (including its representation in the parliament and the government) is ignorant and not educated on the most basic issues of gender, identities and sexual orientation. Their perspective is simplified at best, and straight up manipulative and cruel at worst. Making an exhibition about queer sexuality and identity through such innocent and familiar mediums and subjects as the nature and the paper makes me curious about how this "not-so-controversial" take on the topic resonates with the public." 
Warm Enough For Shorts – screening of short student films // 21 July // 20.00
Supporting July's Gay Pride and the LGBTQ+ community we compiled the best queer shorts made in (not only) Slovakia in the past years. The evening will include a party, with a DJ set from A4 ESC volunteer and Arts and Media Technology graduate, Alexandra Verzier.
Earlier this month, two other A4 events highlighted some lesser explored experiences of queer individuals. On July 7th, the TRANSGRESSION finissage, concluded the photography exhibition of young artist Claude Johann Čierny. The exhibition brought on, through a series of powerful images, the themes of societal pressure, gendered anxieties and social dissent through non-conforming indentity. The exhibition was first displayed on the walls of our gallery in March – as a part of the program of the festival of transgender culture World according to Gabriel. 
On the 6th of July, as part of the CinemAfrica programming, the screening of director Wanuri Kahiu's film, Rafiki welcomed audiences into the life and struggles of two Kenyan lesbians. While the film was banned in Kenya, it was quick to build an international audience.