FRESH AIR: Beam Splitter / Ersatzteile / Karkowski/Xenakis Project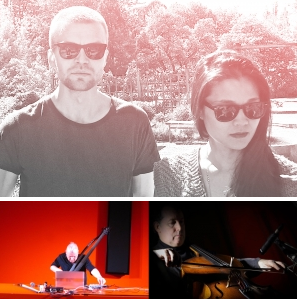 Virtuoso duo Beam Splitter, is a vocalist and cellist Audrey Chen – who starred six years ago at a festival Next – and Norwegian Henrik Munkeby Nørstebø. Performance of this couple that is moving in between fragility, intimacy and deep concentration promises an unusual experience especially for fans of spontaneously improvised music and sounds.Concert takes place within the frame of Fresh Air project: Contemporary trends in music, cinema, theatre and media arts supported with EEA grants and national budget of Slovak Republic, in total amount of 160 430€.
Ersatzteile again in Bratislava: cooperation of famous Slovak musician Pjoni (cello, electronics, vocals) with Prague based Armenian multi-instrumentalist Georgy Bagdasarov (saxophone, electronics) will bring delicate improvisations full of surprises.Composer and musician Zbigniew Karkowski (1958-2013) was well known for his imaginative and often non-comfort creations, ranging in style from music for acoustic instruments to digital noise. In 2006 we had the honor to welcome him in A4 and not only for that we would like to present special project that is apart of Kaerkowsky's creations dedicated to another music visionary of 20th century – Iannis Xenakis (1922-2001) Cellist and bassist Anton Lukoszevieze and Kasper T. Toeplitz come with the program of collected compositions of both composers for solo instruments and electronics that was presented by a number of prestigious festivals of contemporary music. In association with Polish Institute in Bratislava.