Films of the Czech underground and the new wave of the years 70.-80: Author films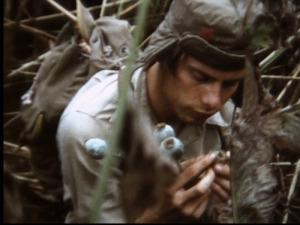 Director: different, CZ, 70 min., Czech
The selection of short films provides insight into the creation of independent film collectives and authors' groups creating a parallel history of Czech cinematography.
The first program shows films from several separated author´s circles. Photographer and filmmaker Jan Ságl, one of the creators of visual identity of Plastic People, is inspired by the early american underground. Films Čaroděja OZ (Wizards OZ), Pabla De Sax and Karry present in the 1980s alternative of second generation influenced by punk and later by neo-romantic movement. The generation of the late 1980s originates in amateur film clubs and directs its own poetry influenced by surrealism (Pavel Marek) and the Czechoslovak new wave (Ivan Tatíček, Pavel Dražan).
Curator of the program and introduction: Martin Blažíček.The films are part of the CAS FAMU research collection.
In cooperation with the Czech Center in Bratislava.