Bratislava Marionette theater: Zhavranelí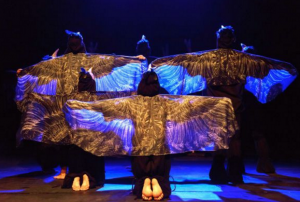 Based on the story by B. Němcovej: Sedmero krkavců Performing A. Mojžišová, J. Morávek, J. Sovičová, M. Nosáľová, J. Bednarič, L. Tandara, A. Kováč, A. Čonková, Directed by Peter Palik
A well known the tale about a sister, who thanks to her great love and self-sacrifice frees her seven brothers from a curse, will take you to old Slavic times full of secret magic through captivating songs, dances, and rituals.
Supported by public funds by the Slovak Arts Council. The inscenation was created by the support from the Tatra Bank Foundation.
Organized by the Bratislava Marionette Theater.