Zoom Dominic Gagnon: Spoločenský priestor (Society's Space)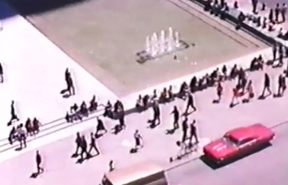 Society's Space, directed by Dominic Gagnon, CA, 60 min., French with English subtitles.
The first part of our retrospective on Dominic Gagnon is dedicated to the critique of capitalism. The film Society's Space is built around a famous text from Guy Deborde Society of Spectacle. Quotes from the book are accompanied by pictures of spectacle which Gagnon found online: video games, reality show, television scenes of (police) governments, presentation videos, and CCTV or archive movies such as Grease. The 45year old analysis of society is actualized by absurd even dystopic pictures of today.