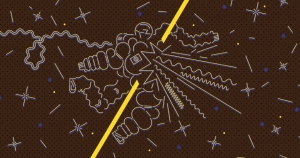 Opera / 6 € at the gate / 5 € presale
… the unsolvability of an opera beings existence during its stay on another planet in thirteen scenes.
Music and libretto by M. Tóth, directed by and light design J. Komárek, assistant director L. Mirvald, scene and costumes L. Kuchareková, B. Formanová, starring I. Adreeva, J. Wernerová, Z. Psotková, P. Kočiš, Samčo, brat dážďoviek, N. Kornetová, A. Miltner a L. Kašiarová, Music false et fica ensemble led by M. Tóth: M. Jermář, G. Kováts, V. Kapusi, M. Kuna, P. Magyar, D. Lévay, M. Dymny, P. Katina, Á. Móser, L. Novosedlíková, Á. Porteleki
The next part in the series of Miroslav Tóths unconventional operas attempts to reconstruct the lives of people on the planet 134330. Life there means the inability of return for those who decided to settle there. After the first months of interest came the years of gradual forgetting. The next mission came 67 years later than originally planned. Everything that has been known so far about the lives of the settlers is significantly diverging from the recovered writings of the researcher Samuel.
The plays creation was supported from public funds by the Slovak Arts Council.
BUY TICKETS