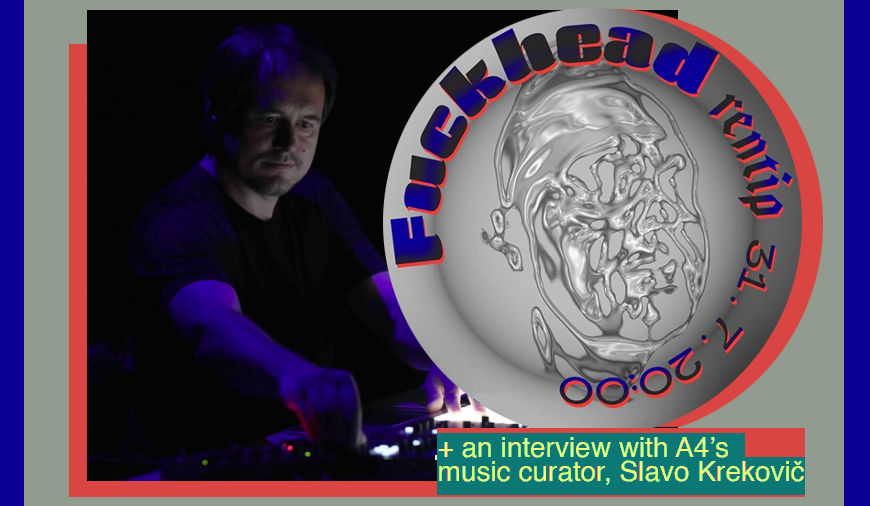 Fuckhead, the band with a reputation for uniquely disturbing performances, is ready to shock their audience this Friday, July 31st, in A4 – Space for Contemporary Culture. Slávo Krekovič, in charge of A4 music programming, shared a peek into what can be expected from the show. 
To say that an artist gave a "raw and provocative performance" has already become an industry cliche at this point. For some, the statement holds more truth than for others. In the case of Austrian band Fuckhead, this assertion is accurate, almost to a fault. 
Having debuted in 1988 as an industrial music duo, the band has quickly gained a reputation as one of the most disturbing, fascinating and polarizing acts of its kind. Band members Didi Bruckmayr, Michael Strohmann and Didi Kern have managed to defy all dogmas and expectations, not only in terms of their performance but also their music. While their sound can prove too multifaceted to fit into just one category, one might describe it as "unsettling and appealing", or simply e x t r e m e.
The online media outlet Austrian Music Export described their latest album Dislocation as having a "spherical and futuristic sound, surfacing to brutal noise-attacks and darkly dragging rock." While shock value is a powerful tool for engaging an audience, the Upper Austrian act does more than that. It prides itself in performance art that consciously challenges the hyper-masculine societal status quo. 
In preparation for their upcoming concert, Slávo Krekovič, A4's long standing music curator, shared some of his thoughts on the band – from memories of their previous concerts to what audiences can expect this Friday.
When were you first introduced to the band?
I think I first saw them playing at an event called "Royal Electronics at the Castle" some time in the early 2000s. And it was all there: radical music, opera-like singing, theatrical performance. A very bizarre, but very powerful show.
Any memories from the last time they played at A4?
They performed at NEXT Festival 2007. The concert was great and it had also caused controversy afterwards. The band members had to wash off the feathers and other stuff from their bodies in the bathrooms shared by the public and the leftovers were discovered by shocked building management the next morning.
Why would you recommend this event?
Because it is a very unique experience. I don't know of any other similar band. It can be shocking and disturbing for some, for sure, but also very honest and artistically impactful. There is something of this quality in Ulrich Seidl's films, but this is kind of more "in your face".
What can the audience expect?
Something unexpectable.
The opening act, Rentip, comes from Bratislava, but spent his recent years in Cambodia. In the late 1990s, he became a pioneer of experimental digital electronic music in Slovakia, as a member of the duo Poo. After a long break he's back on the stage, with a rhythmic concert set.
For the not-so-faint-of-heart, concert tickets are still available online (here), but can also be purchased directly at the venue, on the day of the performance (Friday, 31st July, 20:00). Bring an open mind and clothes you wouldn't mind getting messed up!