Experimental: Here's To The future!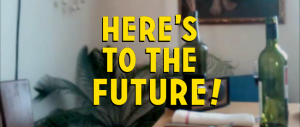 Here's To The Future!, directed by Gina Telaroli, USA, 73 min., English. Gina Telaroli, one of the 25 new directors of Independent Film created by Filmmaker Magazine. She has created a film that lingers between fiction, documentary and experimental film and has thus erased the line between classic Hollywood and contemporary independent cinema. The film takes place one summer Sunday where the director invites her friends to her apartment to recreate
a scene from the Michael Curtiz film "The Cabin in the Cotton". Various non-actors keep repeat the scene again and again, attempts to capture a fleeting moment in front of and behind the camera.