MULTIPLACE #15: Piksel RemoteLab / Building simple instruments using guitar pedals workshop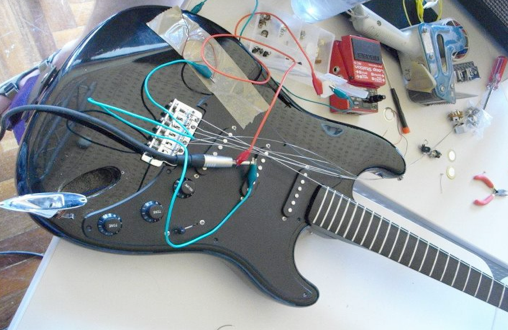 Saturday / 14.00, 18.00, 20.00 / workshop, showcase, projection, performance / free entry
an exhibition curated by Gisle Froysland and Maite Cajaraville (Piksel Festival /Norway) for A4 (Slovekia).
Four Norway based artists will bring their work to the A4 cooperation. The program includes two workshops, three performances and the exhibition of artworks and a Pikselsavers program dealing with DIY bioart, renewable energy, kinetic sculptures powered, online works, net-art, ultrasonic and acoustic waves and analog and digital audio technologies. Piksel is an annual event for artists and developers working with free software, hardware and art based in Bergen, Norway.
Workshop
Building simple instruments using guitar pedals, John Hegre Duration – depends on the local conditions, how long we are there and how much time the participants want to put into it. A general good length for a work session is frm 2 – 4 hours I guess. I am open for anything.
Need electricity, soldering iron, screwdrivers, clippers, some sort of amplification, any sort of amplification and we take it from there. The bigger and more powerful amplification/guitaramp/PA – the more fun! This is a personal preference, quiet is more challenging and also much fun. Anything participants need to bring to the workshop? One cheap/crappy/broken electric guitar they are not afraid to modify. It is also possible to modify more "fine" instruments/guitars but my main focus will be in the cheap end of the scale and the possibilities there. Participants may also bring other acoustic instruments/objects for modification.
The series 'Fresh Air: Contemporary trends in music, cinema, theatre and multimedia' has been supported by the EEA grants & Slovak Republic government budget in the sum total of €160,430.