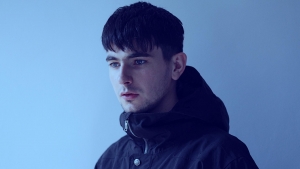 10 € / 8 € presale
Come and enjoy the performance of one the most frequently used names on the scene of futuristic electronics. Lanark Artefax gained attention mostly thanks to his last year's album, which occupied every other chart of this year's best music. The signature of the Glaswegian Calum MacRae is characterized by segmented chorals, frenetic breakbeats, techno and electro elements deconstructed with chirurgical precision, reconstructed into a precise mosaic, as a soundtrack for a time after the singularity. Thanks to his uncompromising approach, he gained the attention of artists as Aphex Twin or Björk who regularly include him in their sets.
Tomáš Prištiak (a.k.a. ½ Tante Elze) will present his new EP Mechanical Heart Valve, which he created as a homage to a Prague cardiologist. All sounds are selected exclusively from live sampling of the artificial heart valve of Tomáš's cousin Daniel Gulas.
As a part of the Sensorium festival and in co-production with A4 – a space for contemporary culture.