"UTOPIA/DYSTOPIA" Summer Creative Training
entry: free entry / registration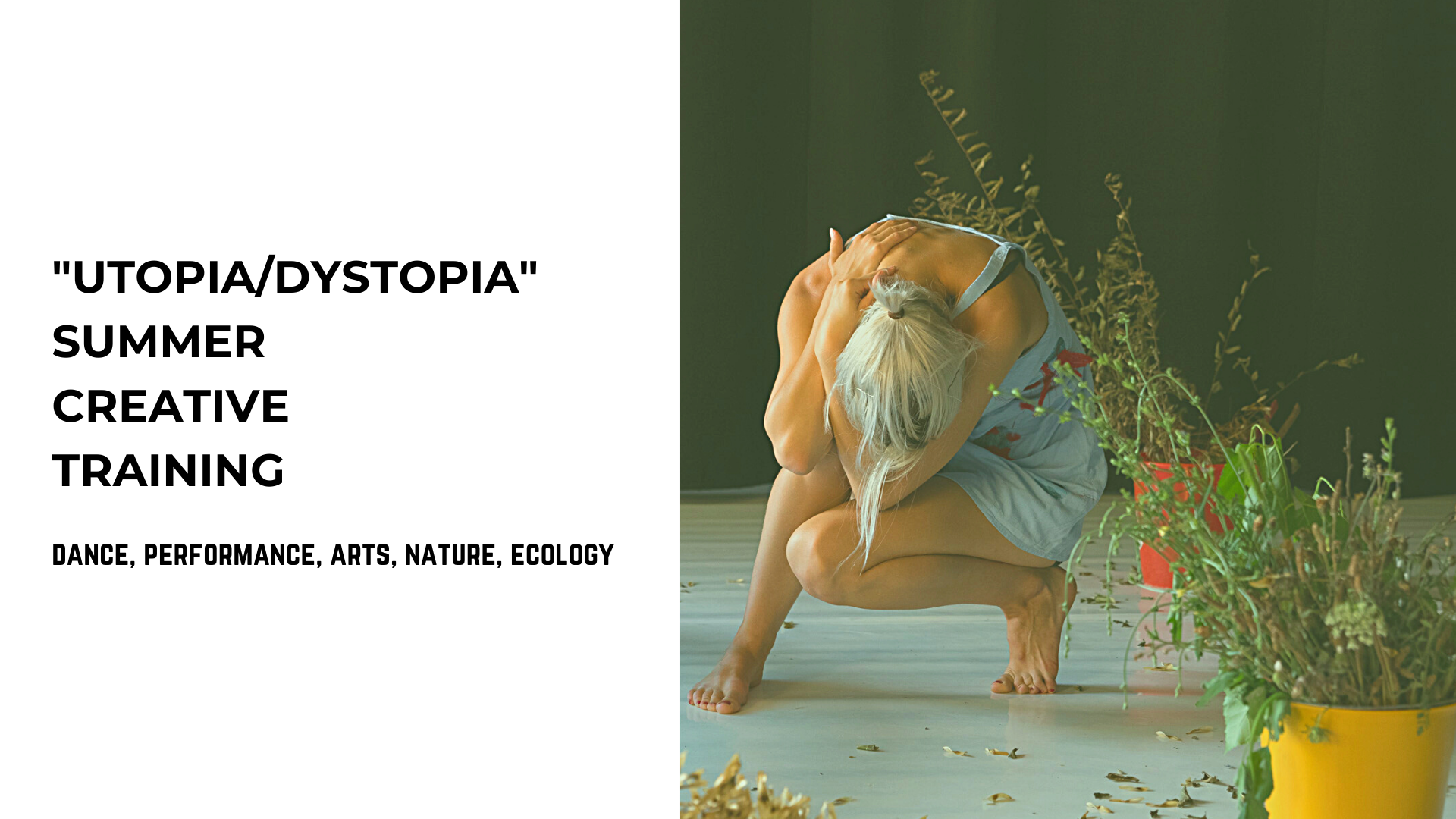 #performance, #dance, #movementresearch, #climatechange, #nature, #environment, #ecology
In the frame of our international "UTOPIA/DYSTOPIA" research & creation residency project, the company Gray Box invites you to join our FREE intensive training, designed for people who want to create and initiate instead of execute and follow. The training will be led by the lecturers Anna Ádám, Rebeka P. Kiss and Eva M. González.
Participants during this research & creation workshop will explore the psychosocial consequences of climate change on a personal level and point out how humans are acutely dependent on the environment, deeply entwined with it on a physical, emotional, and spiritual level. With the use of different techniques and tools (dance, performance, choreography, drawing, writing, video, photo…), participants will relate major socio-political and ecological contexts to psychological and mental symptoms (anxiety, denial, aggressiveness, critical rejection, ignorance…) discuss their parallels, open new questions and perspectives.
So as to stimulate different parts of the brain and the body, participants will move back and forth between moving, writing and drawing. They will also receive one-on-one mentoring (including critical feed-back in the analysis, application of the method and the clarity of details) during the development of their own original artworks.
RESEARCH
Through the exploration of animal and vegetal, nature and environment, power and society, queer and feminist ecologies, we will dress the limits and possibilities of how performance is able to challenge the anthropocentric conundrum. We examine our relationship with environment, rethink and redefine the concept of human, consider the effects and potentials of the posthuman. We place equal weight on critical theory and movement practice, develop ideas and fluency through the creation of individual and group choreographies on our engagement with nature, the protection of ecosystems and the psychosocial consequences of climate change, including scepticism, denial, critical rejection, anxiety, indifference and many more.
ACTIVITIES
Choreography making, performance making, movement research, writing, drawing, video, photo, narrating and composing through improvisation and movement, searching through historical material, archives and divers audiovisual resources, discussion, screening, presentation, feedback.
PARTICIPATION
Our training is composed of nine sessions. Attendees don't have to follow the whole program, but they can actually register independently for each session.

Flexible commitment: Min 1 – Max 9 sessions / Participant

The training is open for creative people (dancer, choreographer, artist, designer, activist, cultural worker, writer…) with or without any degree, or still student

Application deadline: 3rd of June 2021
APPROACH
Cross-disciplinary, at the intersection of dance, visual arts, ecology and psychology
FEE
Free of charge
NUMBER OF PARTICIPANTS
5 people / session
VENUE
A4 – Space for Contemporary Culture (Bratislava, SK)
​
SESSIONS & DATES
The workshop explores the psychosocial consequences of climate change.
Attendees don't have to follow the whole program, but they can actually register independently for each session.
SESSION 1: June 7, 10-13h: Topics: fear, frustration, anxiety, stress
SESSION 2: June 8, 10-13h: Topics: domination, oppression, exploitation, control
SESSION 3: June 9, 10-13h: Topics: the feeling of being trapped, difficulty to act, to go beyond our material and mental barriers 
SESSION 4: June 10, 10-13h: Topics: the feeling of being without perspective, without horizon, without issue​, without future
SESSION 5: June 11, 10-13h: Topics: powerlessness, being lost, overwhelmed
SESSION 6: June 12, 10-13h: Topics: violence, aggressiveness
SESSION 7: June 12, 14-17h: Topics: apathy, depression
SESSION 8: June 13, 10-13h: Topic: skepticism, doubt, critical rejection
SESSION 9: June 13, 14-17h: Topic: ignorance, denial
​LECTURER
Anna graduated from École Nationale Supérieure d'Arts de Paris-Cergy (FR), and is now a visual artist and performance maker. Her work blurs the boundaries between choreography, image and object, with the body and movement as central elements of expression. By combining performing arts, visual arts, education and curatorial practices, Anna's work transgresses normative discourses, challenges gender boundaries, systems of representation and beauty standards. Anna also considers education and community building activities as part of her main artistic medium. At the intersection of a workshop and an interactive performance, she creates and curates non-judgmental and non-hierarchical political spaces for moving, experimental contexts for producing knowledges and tools, sharing learning and unlearning processes, developing new forms of relational aesthetics based on inclusion, connection, co-creation and solidarity.
Since 2016 Anna has presented her work in major cities and small towns alike, in formal and informal, indoor and outdoor spaces (E-Werk Kulzurzentrum (DE), Théâtre National de Syldavie (FR), Piccolo Teatro (DE), Modern Art Museum (AM), Musée National de l'histoire de l'immigration (FR) etc.). During 2020 she has been a resident artist at the University of Artois (FR), Mediterranean Dance Center (HT) and ZFinMalta (MT). In 2021 she will collaborate with Dance City Theater (UK), A4 (SK) and the Abbaye de Maubuisson (FR). Anna has also a significant teaching experience in interdisciplinary art education, combining performance and visual art practices (Academy of Fine Arts Vienna (AT), Conservatory of Dance and Choreography (AM), University of Artois (FR), University of Novi Sad (SRB), ZfinMalta National Dance Company (MT), Mediterranean Dance Center (HT), Dance City Theater Newcastle (GB)…).
She also the founder of the "School of Disobedience", which is an experimental and transdisciplinary art school and fight club based on questioning, criticizing, unlearning, protesting, resisting and defying.
www.annaadam.net
www.instagram.com/AnnaAdamStudio
Organised as part of a group residency of Anna Ádám et al. in A4 within the VARP programme supported by the International Visegrad Fund and as part of a project of international cooperation Re-Imagine Europe, co-financed by EU programme Creative Europe, Slovak Arts Council and the City of Bratislava.
entry: free entry / registration